We are a group interested in the beautification of our town Winchester, as well as in gardening, floral arranging, improving the home.. We offer educational meetings and the opportunity to become an active participant in a delightful group of women working together.
Contact us if you would like to receive more information. To join our club, a membership may be found by clicking the membership tab.
---
We are happy to announce we will be still meeting monthly as in the past – however it will be virtual over zoom. After much discussion we are realizing the challenges that we will all share, not being comfortable to meet a person due to various health concerns, children at home while attending school remotely, gathering in large groups inside, etc. All contributed to our board's decision.
It was decided that we would continue to meet on Wednesdays, as that has been our tradition. We will still meet on the third Wednesday of every month, but in the evening at 7 PM. Mary Grassi and committee are working on programming which will be brought to you over Zoom Webinar. Just think each month you'll have a front row seat.
Festival of Wreaths for 2020


NOVEMBER 23 TO DECEMBER 1
And finally, yes, you are  reading  this correctly – The Winchester  Home and Garden Club is going forward with its annual
Festival of Wreaths for 2020.
Log on to
Leave a check mark next to the wreath or wreaths you would like the chance to win. Tickets are priced the same as years passed – 10 tickets for $20 dollars!
r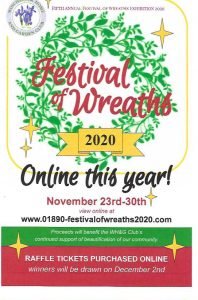 Here is the link for membership payments via PayPal.
Membership link: https://www.paypal.com/cgi-bin/webscr?cmd=_s-xclick&hosted_button_id=QX7NWC35WQC9W&source=url
SECRET SANTA
Dear Fellow Winchester Home and Garden Members,
This year, although we're not having our annual big, bustling holiday luncheon with plant and floral arrangements beautifully designed by the Winchester Home and Garden Club.  That's okay!  The holiday spirit still shines through in one of those most fun of holiday traditions: Secret Santa!
So, you'd like to be a Secret Santa? Of course! You'll give as many or as few gifts to your Secret Santee as you'd like, up to a limit of $25.  Please deliver gifts to your Santee's home (social distancing is a must!); if you are not able to deliver gifts yourself, we have WHGC Elves who can do this for you 😊.  In turn, someone else will be your Secret Santa and give you a wonderful gift as well.
But now you're saying, "I'm not omniscient like Santa Claus; how do I know what gifts might truly delight my Secret Santee? Easy—just fill out this form.  We'll give your form to your Secret Santa, and you'll get your Santee's form. Please fill form out by Thursday, 11/13.
Questions?  Ask Mai Harrison at mai_harrison02@hotmail.com
Delivery Date?  Please deliver by Monday, December 7th in advance of our WHCG Zoom Holiday Party on Wednesday, December 9th.
Ps Big thank you to Adrienne Spignesi who made the great google form questionnaire!
https://docs.google.com/forms/d/e/1FAIpQLSdH6mO_9ICIhYYS_bj20B1p4TSw2oLXIh5y0vU-YLzzV3yk4Q/viewform
___________________________________________________________________________
---
Club Theme: Bloom where you are planted!
Established 1934 – Federated 1935
150 Total Members – 11 Honorary
Club Flower: Iris