We are a group interested in the beautification of our town Winchester, as well as in gardening, floral arranging, improving the home.. We offer educational meetings and the opportunity to become an active participant in a delightful group of women working together.
Contact us if you would like to receive more information. To join our club, a membership may be found by clicking the membership tab.
---
We are happy to announce we will be still meeting monthly as in the past – however it will be virtual over zoom. After much discussion we are realizing the challenges that we will all share, not being comfortable to meet a person due to various health concerns, children at home while attending school remotely, gathering in large groups inside, etc. All contributed to our board's decision.
It was decided that we would continue to meet on Wednesdays, as that has been our tradition. We will still meet on the third Wednesday of every month, but in the evening at 7 PM. Mary Grassi and committee are working on programming which will be brought to you over Zoom Webinar. Just think each month you'll have a front row seat.
Please join us on Zoom!

Fun Time Playing Bingo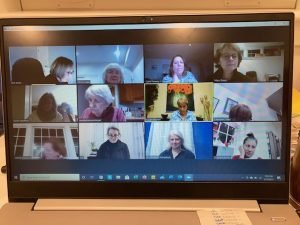 February 24 – Deborah Trickett's "Beauty and the Bees from the Captured Garden"



March 17 – Raised Bed Vegetable Garden, Gretel Anspach w/ MMGA
April 28 – Bespoke of Winchester, Melinda Guglietta
May 19 – Michele Schuckel, Natural Selections Gardens, "Composting How to: Hands in the Dirt"
__________________________________________________________________________
---
Club Theme: Bloom where you are planted!
Established 1934 – Federated 1935
150 Total Members – 11 Honorary
Club Flower: Iris