We are a group interested in the beautification of our town Winchester, as well as in gardening, floral arranging, improving the home.. We offer educational meetings and the opportunity to become an active participant in a delightful group of women working together.
Contact us if you would like to receive more information or to join our club (Click here).
---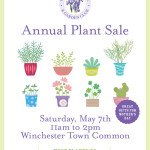 Be sure to attend our May 7th Plant Sale.
Click here for more information.
Feel free to attend one of our meetings.
For details and fees please see the Programs section.
---
We are members of the
Garden Club Federation of Massachusetts
and
National Garden Clubs, Inc.
Club Theme: Bloom where you are planted!
Established 1934 – Federated 1935
150 Total Members – 11 Honorary
Club Flower: Iris