We are a group interested in the beautification of our town Winchester, as well as in gardening, floral arranging, improving the home.. We offer educational meetings and the opportunity to become an active participant in a delightful group of women working together.
Contact us if you would like to receive more information. To join our club, a membership may be found by clicking the membership tab.
---
We are members of the
Garden Club Federation of Massachusetts
and
National Garden Clubs, Inc.
---
WATCH FOR THE NEXT EVENT!!!!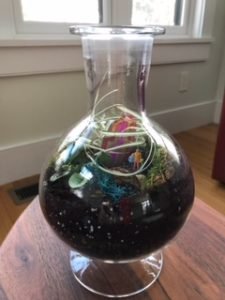 Thursday, March 15, 2018 @ 6:30 pm Artlounge
1346 Massachusetts Ave. Arlington
$35.00 pp.
Together we will discover the small green world of terrariums at artlounge in Arlington. Unique vessels provide the perfect home to layer lush greenery that will thrive and delight as your imagination unfolds. Discover what secrets may be hiding when we take a closer look at the world behind the glass.
cash bar and appetizers available Please email Gail to reserve your spot: Gmorlock415@gmail.com
All are welcome to attend!
---
Club Theme: Bloom where you are planted!
Established 1934 – Federated 1935
150 Total Members – 11 Honorary
Club Flower: Iris